Author: Jitske | Published: 07th mei 2013 | RSS | LINK
Ellentriek goes textile: liberating knitting machines Saturday 18th May 2013 10am – 6pm Pianofabriek Exhibition space Rue du Fortstraat 35, 1060 Brussels In the eighties and nineties electronic knitting machines were readily available. But it was never a simple task to knit an image, a drawing, photograph, text you designed yourself with it. You could buy premade images on floppies of punch cards. This is all about to change! With Knitic you can connect your computer directly to the knitting machine.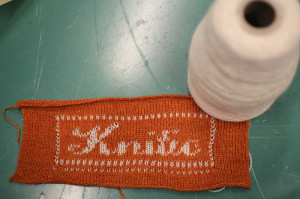 Do you have a Brother KH930 or KH940? Do you finally want to do what you want with it? Are you fascinated by open hardware/free software and are you curious to experience this specific way of working and thinking? Or do you, as a hardcore knitter want to see what's possible when the technological electronics part of the knitting machine has been changed? Or are you just curious to come and test the old knitting machine with a new brain? Come to our workshop of 'Ellentriek goes knitting' on Saturday the 18th of May. 10-13h We will replace the proprietary brain of your machine. The old one is not broken, it is just disconnected. Under professional guidance we will assemble a few electronic components. The next step is hooking up your computer to the machine and to show you how to work with Knitic (Knitic is hard-and software which is easy to work with). This part of the workshop is also for beginners and people who know nothing about electronics. 14-18h Come and test the new old machines and knit a photograph, text, image.. Who: with Knitic.com (Varvara Guljajeva & Mar Canet) & knitter Claire Williams Please contact us on beforehand if you have a knitting machine to hack, type Brother machine KH 930 KH 940. wendy attttt constantvzw.org. We contact you on the what and how. Ellentriek is organized by De Pianofabriek kunstenwerkplaats & Constant vzw. This workshop is part of the Ruelles project (http://ruelles.constantvzw.org)
Ellentriek kiest weer voor textiel: we gaan breimachines bevrijden. Zaterdag 18 mei 2013 van 10 tot 18u. Pianofabriek Tentoonstellingsruimte Fortstraat 35 1060 Brussel In de jaren 80 en 90 waren elektronische breimachines gemakkelijk te vinden. Maar het was nooit eenvoudig om er een zelfgemaakt beeld, tekening, foto of tekst mee te breien. Ofwel kocht je voorgemaakte beelden op floppies, ofwel moest je werken met ponskaarten. Nu komt daar verandering in! Met Knitic kun je je computer aan je breimachine hangen.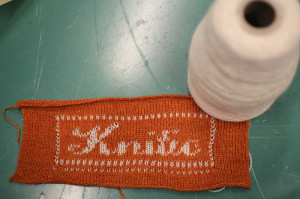 Heb je nog een Brother machine van het type KH930 of KH940 staan en wil je eens eindelijk je zin ermee kunnen doen? Ben je gefascineerd door toepassingen van open hardware/vrije software en ben je nieuwsgierig naar deze specifieke manier van denken en werken? Of wil je als gepassioneerde brei-ster wel eens zien wat de mogelijkheden zijn als de technologie van een breimachine onder handen wordt genomen? Of ben je gewoon nieuwsgierig om te komen kijken wat er allemaal kan als een oude breimachine nieuwe hersens heeft gekregen? Kom dan naar onze workshop 'Ellentriek goes knitting' op zaterdag 18 mei. 10-13u We vervangen de proprietaire/oorspronkelijke hersenen van je machine. De oude zijn niet stuk, we koppelen die gewoon los. We steken een aantal elektronische componenten in elkaar onder professionele begeleiding. Daarna sluiten we je machine aan op een computer en tonen hoe je met Knitic werkt. (Knitic is hard-en software, heel eenvoudig te bedienen). Dit is ook bedoeld voor beginners of mensen die niets van elektronica kennen. 14-18u Kom mee de vernieuwde machines testen en brei een foto, tekst, beeld naar keuze! Wie: met Knitic.com (Varvara Guljajeva & Mar Canet) & brei-ster Claire Williams Gelieve vooraf contact op te nemen indien je een breimachine van het type Brother machine type KH 930 of KH 940 bezit. wendy attttt constantvzw.org We bespreken dan hoe we het beste te werk gaan en wat er gevraagd wordt. Deze worskhop is onderdeel van het project Ruelles (http://ruelles.constantvzw.org) Ellentriek is een organisatie van De Pianofabriek Kunstenwerkplaats & Constant vzw. http://www.ellentriek.net
Ellentriek se met au textile : la libération des machines à tricoter Samedi 18 mai 2013 de 10 à 18 heures Pianofabriek Espace d'Expo Rue du Fort 35, 1060 Bruxelles Dans les années quatre-vingt et nonante, les machines à coudre étaient accessibles. Mais ce n'était jamais une tâche simple que de tricoter avec la machine une image, un dessin, une photographie ou un texte que vous aviez conçu vous-mêmes. Vous pouviez acheter des images toute prêtes sur des floppies ou des cartes perforées. Ceci va changer ! Avec Knittic vous pouvez connecter directement votre ordinateur à la machine à tricoter.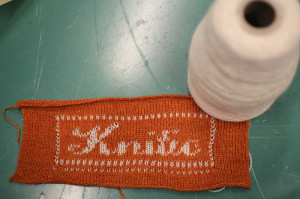 Vous avez une Brother KH930 ou KH940 ? Vous voulez vous en servir librement ? Vous êtes fascinés par le hardware libre/ouvert et vous êtes curieux de rencontrer cette manière si particulière de travailler et penser ? Ou, trictoteur/euse endurci/e vous voulez voir ce qui est possible quand la partie électronique de la machine a été modifiée ? Ou vous êtes juste curieux de tester une vieille machine avec un nouveau cerveau ? Venez à notre atelier 'Ellentriek se met au textile' le samedi 18 mai. 10-13h Nous remplacerons le cerveau propriétaire de votre machine. L'ancien ne sera pas cassé, il est juste déconnecté. Avec une aide professionnelle, nous assemblerons quelques composants électroniques. L'étape suivante sera de connecter l'ordinateur à la machine et de travailler avec Knitic, un hard et soft-ware facile à utiliser. Cette partie de l'atelier est aussi pour débutants et personnes qui ne connaissent rien en électronique. 14-18h Venez tester de nouvelles anciennes machines et tricoter une photographie, un texte, une image. Qui : avec Knitic.com (Varvara Guljajeva & Mar Canet) & la tricoteuse Claire Williams S'il vous plaît, contactez-nous à l'avance si vous avez une machine à hacker de type Brother KH 930 ou KH 940. wendy attttt constantvzw.org On vous donnera plus d'informations sur la procédure. Ellentriek est organisé par De Pianofabriek kunstenwerkplaats & Constant vzw. Cet atelier fait partie du projet Ruelles (http://ruelles.constantvzw.org) http://www.ellentriek.net